Dam safety
Svenska kraftnät is acting as the national dam safety authority. Our task is to promote dam safety in Sweden. We do this by issuing guidelines, providing supervisory guidance to the county administrative boards in dam safety issues, supporting the development of emergency preparedness planning for dam failures and promoting research and development within the dam safety field. Each year, we report to the Government about dam safety developments.
In total there are some 10 000 dams in Sweden. For about 500 dam facilities a dam failure would result in significant consequences such as loss of human lives, serious environmental damages, damages to infrastructure or services vital to society and/or major economic damage.
Different roles within the dam safety area
According to the Swedish Environmental Code, the owner of a dam has the obligation to maintain the dam in order to avoid damage. The dam owner has strict liability and shall prepare and follow procedures for self-regulation.
The county administrative boards are responsible for dam safety supervision, i.e. supervision of the owners' self-regulation.
The illustration shows the roles that interact regarding dam safety. For further information about legislation and roles read "Dam Safety in Sweden" window). (.pdf) Opens in a new window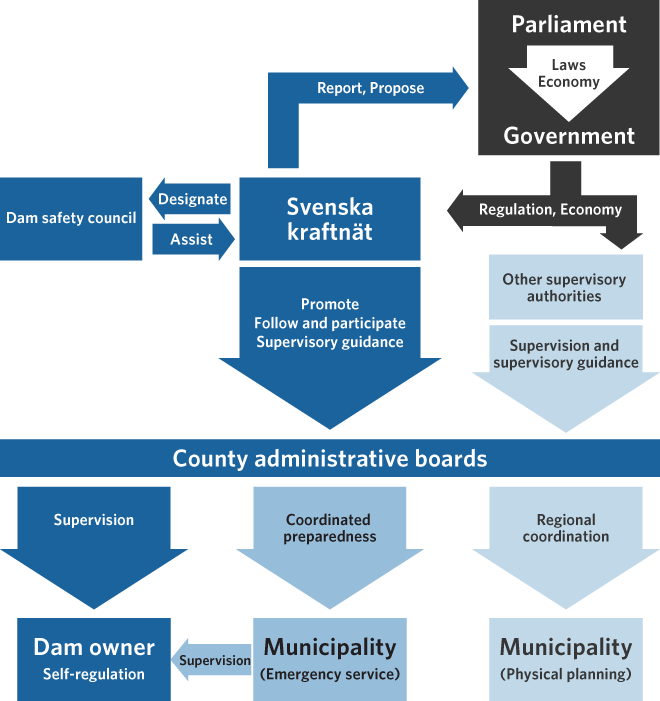 Svenska kraftnät has a mandate to promote dam safety
Svenska kraftnät is promoting dam safety by carrying out the following tasks:
Supervisory guidance:
We guide the county administrative boards in dam safety issues under Chapter 11 in the Environmental Code in order to achieve effective supervision. We provide advice and assistance to the county administrative boards in supervisory matters. We coordinate, follow up and evaluate the supervision on dam safety.


Climate change and design floods for dams:
We follow the impact on dam safety related to climate change. We interact with the hydro power industry, the mining industry and the Swedish Meteorological and Hydrological Institute (SMHI) in the development work. Together we have issued guidelines for determination of design floods for dams.


Emergency preparedness for dam failure and floods:
We work to reduce the risk of serious impact to society caused by a dam failure or floods in regulated rivers. We participate in the development and practice of coordinated emergency preparedness planning for dam failures in major regulated rivers.


Development of knowledge and skills supply:
We promote development of knowledge within dam safety by supporting development projects in the dam safety program of the Swedish Energy Research Centre (Energiforsk).

Opens in a new window

 We also support the Swedish Hydropower Centre (Svenskt Vattenkraftcentrum)

Opens in a new window

, which is a centre for higher education and research regarding hydropower and dam safety.


Information and co-operation:
Together with stakeholders we spread information and experience on dam safety both nationally and internationally. We also participate in various networks and reference groups. In support of our function, we have a consultative body, the Dam Safety Council (Dammsäkerhetsrådet).


Permit applications and formal consultations:
We participate in consultations and respond to submissions and referrals, inter alia, in permit application cases under Chapter 11 of the Environmental Code.
English translations of Swedish legislation and guidelines
In the following we have compiled a selection of legislation and guidelines relevant to dam safety. Please note that the translations are unofficial.
Contacts
Maria Bartsch
+46 10 475 80 25

Anna Engström Meyer
+46 10 475 83 42